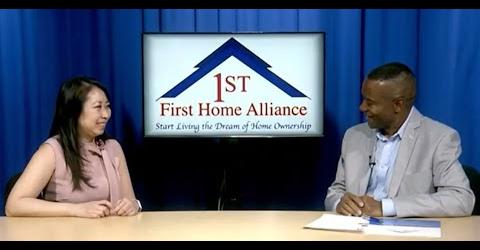 Woodbridge, VA – April 3, 2023 – Larry Laws started off April with a new episode of Rock Your Block featuring Anne Marie Robert. She is French-born and moved to the United States to study at the University of South Carolina, then later relocated to Northern Virginia in 1999 and has been a steadfast face in real estate since. As the co-owner of Advantage Settlement, Inc. Robert was an excellent guest to have on for the month, which is acknowledged as both Fair Housing Month and Financial Literacy Month.
Interspersed throughout the show, Laws and Robert discussed many topics related to travel and the change of perspective that can accompany a change of location or geography. Robert, born in Vietnam, moved to France as a child. The two also discussed the influences that prompted her to then move to the States to attend the University of South Carolina and then on to Northern Virginia and a few of the different distinctions and similarities among the various places she has lived and worked. They further discussed what places have been some of her favorites and how Robert enjoys scuba diving.
Travel isn't her only passion and Laws and Robert also discussed her community involvement as a den leader for her daughter's Scout Troop. And the immensely gratifying experience of working with a team of other women for Habitat for Humanity to fundraise and volunteer to build homes for families in need. In-line with the dual focus for April of Financial Literacy and Fair Housing, Laws also discussed with Robert how rewarding it is for her to give back to the community through educational efforts that surround the process of home buying.
One of the primary topics in the latter part of the show focused on Robert's job with Advantage Settlement, which she helped found and for which she is the Operations Manager. The two discussed the services Advantage offers to their community and the company's mission and values. They also talked about Advantage's positive impact on the community. You can watch the entire interview here: https://www.youtube.com/watch?v=-9_g3SM5hgc&t=324s
More information on the organization's efforts can be found at AdvantageSettlement.com.
Rock Your Block is a weekly tv program aired by Fairfax Public Access (FPA) on Channel 10. The show shines a spotlight on Fairfax County and Washington-area neighborhoods and individuals doing good in their communities and encouraging others in similar acts. Channel 10 airs local programming indicative of the diverse lifestyles and interests of the Washington metro area. Rock Your Block airs Tuesdays at 2:30pm, Fridays at 6pm, and Saturdays at 12:30am.
First Home Alliance is a HUD-approved 501(c)3 not-for-profit housing counseling agency promoting financial literacy and economic self-sufficiency. Their mission is to increase home ownership among low-to-moderate income communities and to sustain ownership through loss-mitigation counseling and foreclosure intervention. For more information or to make a tax-deductible donation to empower their mission please visit: www.FirstHomeAlliance.org.