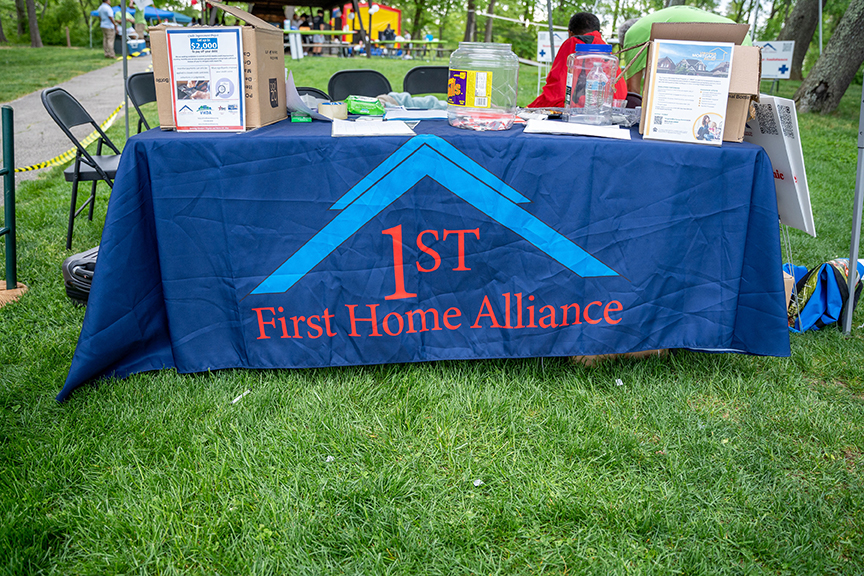 Woodbridge, VA – April 24, 2023 – First Home Alliance wants to offer a heart-felt thanks to all of the volunteers in our communities for your support in continuing to improve the places in which we work and live. It is in this spirit of volunteerism and community improvement that FHA recently hosted its 15th Annual Community Appreciation Day, previously known as Volunteer Appreciation Day, at Veterans Memorial Park, Woodbridge, Virginia, near the tranquil Marumsco Creek and Featherstone National Wildlife Refuge nestled into the Occoquan Bay National Water Reserve. 
FHA Founder and President, Larry Laws acknowledged that "Improvement and enrichment of our communities often occurs through the work of volunteers. And this day of community engagement and family fun is our way to show how much we appreciate the values of and also the value of our own volunteers and the work done by others to strengthen our communities." FHA honors some of its own volunteers each year by awarding The President's Volunteer Service Award. This year they were presented to Richard Buffington, Kaia Johnson, and Breanna` VaSha Matthews.
This early spring event focused on financial wellness and physical fitness. The day's festivities were kicked off with a free yoga class and included many family-friendly activities. Staff and attendees celebrated with free Zumba dancing, nature trail walks, financial literacy games, and other giveaways and fun activities. Food was provided to attendees by Mission BBQ in Woodbridge, VA. Elijah Johnson Deputy County Executive, Prince William County, was also on-hand share in the sentiment of community enrichment. Laws later said, "We couldn't help all the families we're able to assist, without your dedication and assistance. This is a small way to give back to them for their sizeable contributions to our success."
The dedication and support of this year's sponsors cannot be overstated and was greatly appreciated. These businesses have proven themselves a valuable asset to our communities. This year's sponsors included: United Bank, The Veteran's Association of Real Estate Professionals (VAREP), Mission BBQ in Woodbridge, Fairfax Realty, American Legion Post 114, eXp Realty, HouseMaster, Motion Mortgage, Women of Good Works, Advantage Settlement, and P.J. Santiago Real Estate. 
First Home Alliance is a HUD-approved 501(c)3 not-for-profit housing counseling agency promoting financial literacy and economic self-sufficiency. Their mission is to increase home ownership among low-to-moderate income communities and to sustain ownership through loss-mitigation counseling and foreclosure intervention. For more information or to make a tax-deductible donation to empower their mission please visit: www.FirstHomeAlliance.org