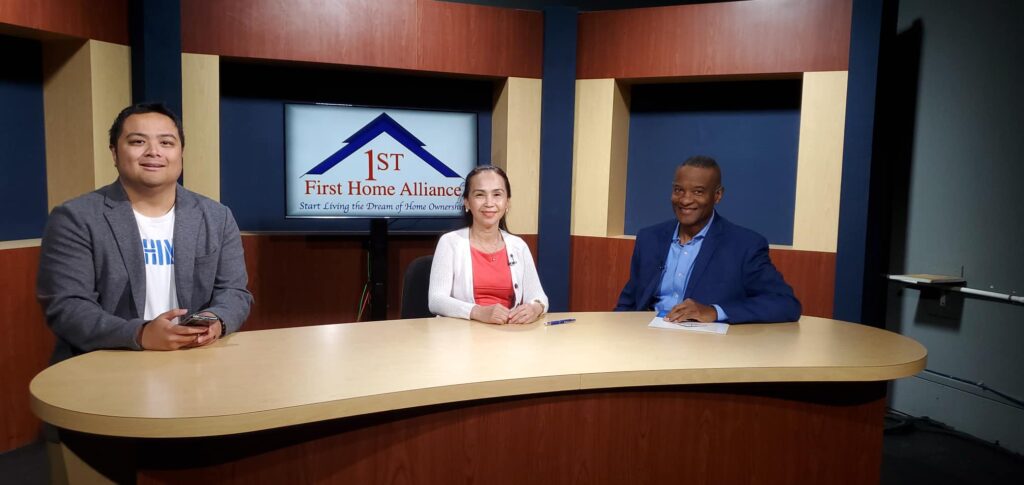 Woodbridge, VA – May 3, 2023 – First Home Alliance President and Founder Larry Laws started May off with a brand-new Rock Your Block episode to acknowledge and honor Asian American and Pacific Islander (AAPI) Heritage Month. Laws interviewed both Real Estate Agent P.J. Santiago and homeowner Sophany Ob. The trio discussed the two guests' professional and personal lives and their rich cultural heritage, along with how it has influenced and shaped their individual places within their communities.  
Santiago is a Real Estate Professional who follows a simple philosophy: "Relationships come first."  This primary tenet allows him to communicate with his clients in a manner that pro-actively keeps them informed throughout the process of buying or selling their home. For the third year in a row, Santiago was voted "One of the 100 Best Real Estate Agents" by Northern Virginia Magazine readers. Anyone working with Santiago and his team learn first-hand how they constantly strive to lead the field in innovation, consumer education, risk analysis, and customer satisfaction. 
Sophany Ob is a first-generation immigrant from Cambodia. Shortly after moving to the U.S., Ob enrolled in a Skill Source Program that partnered with First Home Alliance and their volunteer service to provide job training. Ob's journey to home ownership began there. She asked every question and attended every class. She knew housing was necessary, but quickly learned that homeownership would provide a more comfortable and stable environment for her family. 
Throughout the discussion, the group also discussed cultural similarities and differences and how they adjusted to their new lives. What led them to move to the United States and how viewers can celebrate Asian heritage for more of the year, than just May. They also discussed any advice or opportunities available to those in the AAPI community and the ways in which Santiago and Ob have given back to their communities. Last, but not least, the group shared advice for other immigrants interested in becoming homeowners and how others can become allies to members of the AAPI community. The full interview can be watched here: https://www.youtube.com/watch?v=O8weSX-FTt0
Rock Your Block is a weekly tv program aired by Fairfax Public Access (FPA) on Channel 10. The show shines a spotlight on Fairfax County and Washington-area neighborhoods and individuals doing good in their communities and encouraging others in similar acts. Channel 10 airs local programming indicative of the diverse lifestyles and interests of the Washington metro area. Rock Your Block airs Tuesdays at 2:30pm, Fridays at 6pm, and Saturdays at 12:30am.
First Home Alliance is a HUD-approved 501(c)3 not-for-profit housing counseling agency promoting financial literacy and economic self-sufficiency. Their mission is to increase home ownership among low-to-moderate income communities and to sustain ownership through loss-mitigation counseling and foreclosure intervention. For more information or to make a tax-deductible donation to empower their mission please visit: www.FirstHomeAlliance.org.