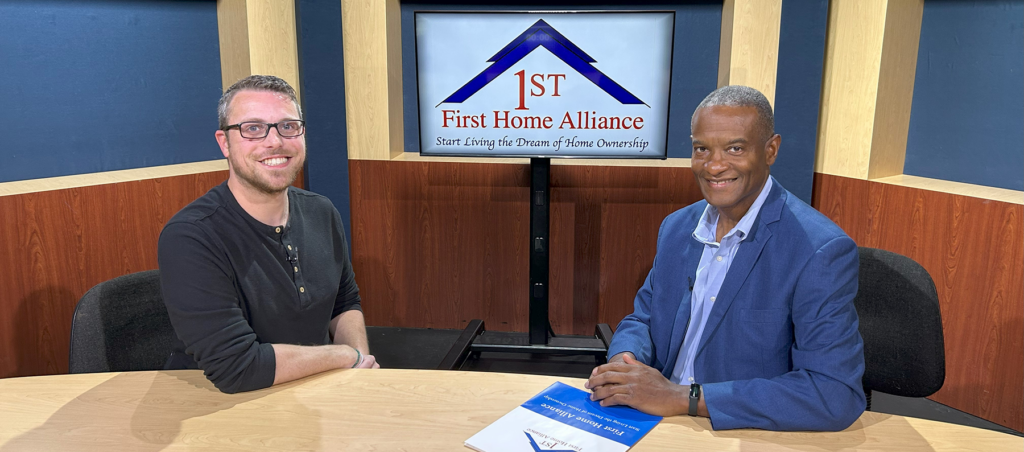 Woodbridge, VA – September 15, 2023 – First Home Alliance is eager to introduce you to an interesting and multi-talented Alabama native in the most recent installment of Rock Your Block. Adam Carlton has been on a remarkable journey of self-discovery and a varied path of career experiences starting his professional life in sales and customer service and including enlisting in the United States Air Force Reserve.
During the interview, FHA Founder and President, Larry Laws speaks with Carlton about his unexpected time as a flight attendant for a major airline, along with some of his favorite places to visit in London. They also talk about how the role combined his love for travel with a deep appreciation of diverse cultures. This broadening perspectiveled him to a life-changing commitment to serve his country. In 2009, Carlton enlisted with the Air Force Reserve.
The two mendiscuss how Carlton became acquainted with FHA and the Veterans Association of Real Estate Professionals (VAREP) and the impact the organizations had on his life. They also talk about how Carlton turned his time in the Armed Forces into a career and now works at the Pentagon with VMD Corporation. His future looks bright as Carlton looks forward to expanding his professional horizons further into the tech field embracing the potential for innovation that he's already discovered within himself.
Looking ahead, he is eagerly preparing to dive into the tech industry, ready to explore new horizons and embrace the potential for innovation. His story serves as a testament to the power of embracing change and seizing opportunities, as he transitioned from the airline industry to the Pentagon and now sets his sights on the dynamic world of technology. You can watch the full interview here:
Rock Your Block is a weekly tv program aired by Fairfax Public Access (FPA) on Channel 10. The show shines a spotlight on Fairfax County and Washington-area neighborhoods and individuals doing good in their communities and encouraging others in similar acts. Channel 10 airs local programming indicative of the diverse lifestyles and interests of the Washington metro area. Rock Your Block airs Tuesdays at 2:30pm, Fridays at 6pm, and Saturdays at 12:30am.
First Home Alliance is a HUD-approved 501(c)3 not-for-profit housing counseling agency promoting financial literacy and economic self-sufficiency. Their mission is to increase home ownership among low-to-moderate income communities and to sustain ownership through loss-mitigation counseling and foreclosure intervention. For more information or to make a tax-deductible donation to empower their mission please visit: www.FirstHomeAlliance.org.